Global issues discussed at BRICS events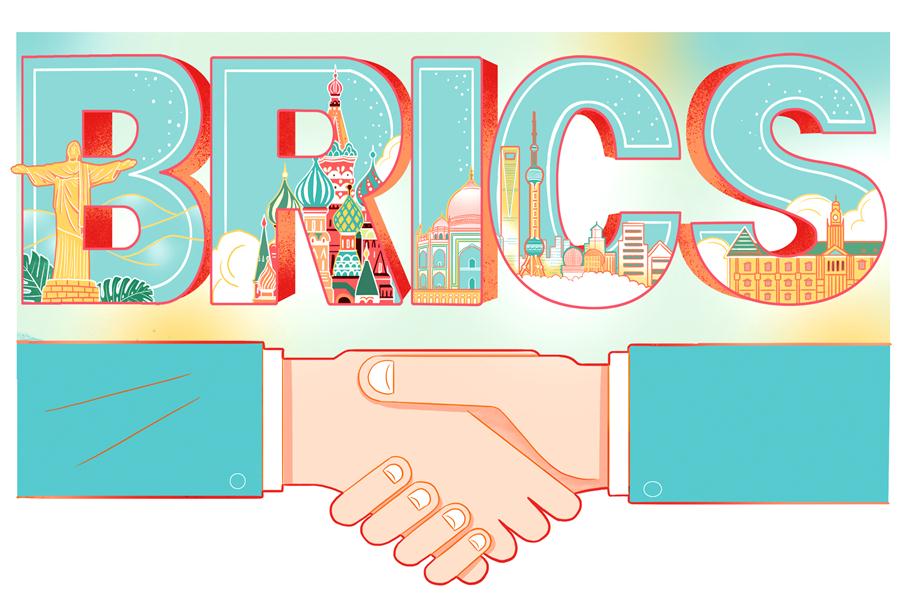 [Photo by Shi Yu/China Daily]
BRICS countries should join hands to innovate in governance and tackle common challenges such as the COVID-19 pandemic and alleviating poverty, experts said at a BRICS seminar.
Richard Levin, special master for labor tenants at the Land Claims Court in Randburg, South Africa, said at the BRICS Seminar on Governance and Cultural Exchange Forum 2020 that the COVID-19 pandemic has severely affected the world, and all countries need to make adjustments and work together to address global problems, such as poverty.
He added that China, South Africa and other African countries have always been committed to multilateralism and could play important roles in pushing forward the innovation of governance, and that he hopes BRICS countries-Brazil, Russia, India, China and South Africa-will gain larger voices in global governance.
Du Zhanyuan, president of China International Publishing Group, said that BRICS successfully evolved from a concept into an organization and it continues to develop, because BRICS countries represent emerging powers in the world. The countries have consistently put forward new ideas and solutions on major global issues from a new perspective to promote the development of global governance, Du said.
The BRICS mechanism is a product of innovation, he said, and should continue to be a source of innovation and play a more active role in leading the world out of difficulties.
Pavel Negoitsa, general director of the editorial office of the Rossiyskaya Gazeta newspaper, said that because of the COVID-19 pandemic, more people across the world will fall into poverty. China has made tremendous achievements in poverty alleviation in the past few decades and its experiences are worth learning from. He also suggested that BRICS countries hold a forum especially to share experiences of lifting people from poverty.
Cultural exchanges
People-to-people and cultural exchanges are also critical to BRICS countries. Chinese film director Lu Chuan previously organized the filming of Kids and Glory, the first documentary jointly produced and broadcast by BRICS countries. He said the film has been a cultural product and popular art form with people of all countries, and it could serve as an ambassador in international cultural exchanges.
Lu expected to make more jointly produced documentaries among BRICS countries in the future on a wide range of topics, including music, history, and literature.
More than 150 participants from BRICS countries participated in the seminar and forum on Thursday and Friday. The events were co-organized by the Publicity Department of the Communist Party of China Central Committee, China International Publishing Group, Guangming Daily, Rossiyskaya Gazeta and the Russia-China Friendship Association.